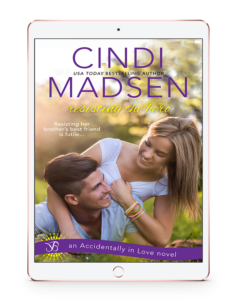 Resisting her brother's best friend is futile…
Faith Fitzpatrick isn't looking for a hero. Burned one too many times in the past, she's now sworn them off completely. And when her brother's best friend, Connor, convinces him to join the dangerous SWAT team, Faith has never been more anti-hero. What's wrong with having a safe job? There's nothing safe about Connor. Confident, sexy, and sporting a six-pack that should be illegal, he's everything she doesn't want.
When his best friend's sister moves to town, local cop Connor Maguire knows he's in trouble. Faith is feisty, funny, and talks trash like nobody's business. She's also his partner's sister—and so totally off limits. Working on the Fall Festival together, they agree to a truce and become friends. But the more time Connor spends with Faith, the more he's willing to risk the wrath of her brother. If he could only convince her to take a risk on him, too.
Buy on Amazon
Buy on Barnes & Noble
Buy on iTunes
Buy on Kobo