All the news!
I've had some schedule rearranging do to a whole lot of things, so I figured I'd give everyone an update.
Upcoming releases:
The Wedding Date will release on March 25th. This is book one in my new football series. It's about a former quarterback who inherits the most-losing team in the NFL and the HR manager who's all about the rules and has to deal with the mess when he impulsively fires everyone. Plus he's got his brother's wedding in the mix, and so they make a deal she'll go with him so they can rebuild the coaching staff and ward off his mom's attempts to set him up at the same time. Win-win! Until you know, all that sexual tension gets the best of them 😀
Just One of the Groomsmen releases May 28th. It's about a girl that's always been one of the guys. She's even a groomsman for her friend's upcoming wedding. Only now she's developing feelings for one of the other groomsmen—the one who's been her best friend for as long as she can remember.
(These aren't the official blurbs. Just a bit of what they're about. The official blurb and covers will be coming soon)
Counterfeit Boyfriend has a new cover and is going to be on sale this week! So if you haven't picked it up, now's the perfect time.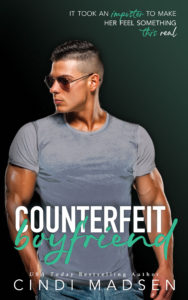 My twin brother's talked me into a lot of crazy things, but taking his place on a road trip with his girlfriend so he can party with his friends is a whole new level of insanity. What's even more insane is I somehow find myself agreeing to it—thanks, alcohol, guilt, and bribery. I'm determined to undo the arrangement, but then I meet Gwen, this sexy redheaded hurricane of energy and brains. 

And then she kisses me. Just like that, I'm driving her up the coast, on our way to a wedding with a mess of complications. With each hour and each stop, I'm falling harder and harder for a woman who doesn't know my actual name. 

I'm trying to do the right thing. Or the lesser of the wrong things. All my life I've had to clean up my brother's messes, but for the first time ever, I've landed the upper hand in one of our switcheroo schemes. Now I've just got to come clean and convince Gwen that I'm the brother she should be with.
I also have a new series coming out in mass market paperback. It was pitched as Gilmore Girls meets cowboys and I'm super excited about it!
I have another project that I can't announce yet, but as soon as it's all finalized I'll be shouting it from the rooftops. Just know that this next year and 2020 are going to be filled with lots of fun books!
*****
Now for the questions I get occasionally through email and on Facebook.
When are we going to get Finn's book? (Fighting for Her Book #3)
Here's the hard truth. My MMA books didn't sell as well as my publisher or I hoped. When this happens, other books in the series get cancelled. I'm lucky in that my publisher has worked with me long enough they wanted more books. So we pivoted to a football series. This means that Finn's book is on hold, possibly indefinitely.
     2. What about the second book in the Tactics in Flirting Series?    (Operation Prom Date is the first book)
I plotted out the second book and hope to write it someday, but my other series have sold better and so I have to focus on them and on my new publishing contracts. As sad as this makes me, this is part of publishing. I always want to make my readers happy but I also have to take care of my family, which involves crazy things like paying my mortgage and getting groceries. Man, kids eat a lot! LOL
Anyway, that's all the news for now! Know that I appreciate you all! 
xoxo!
Cindi