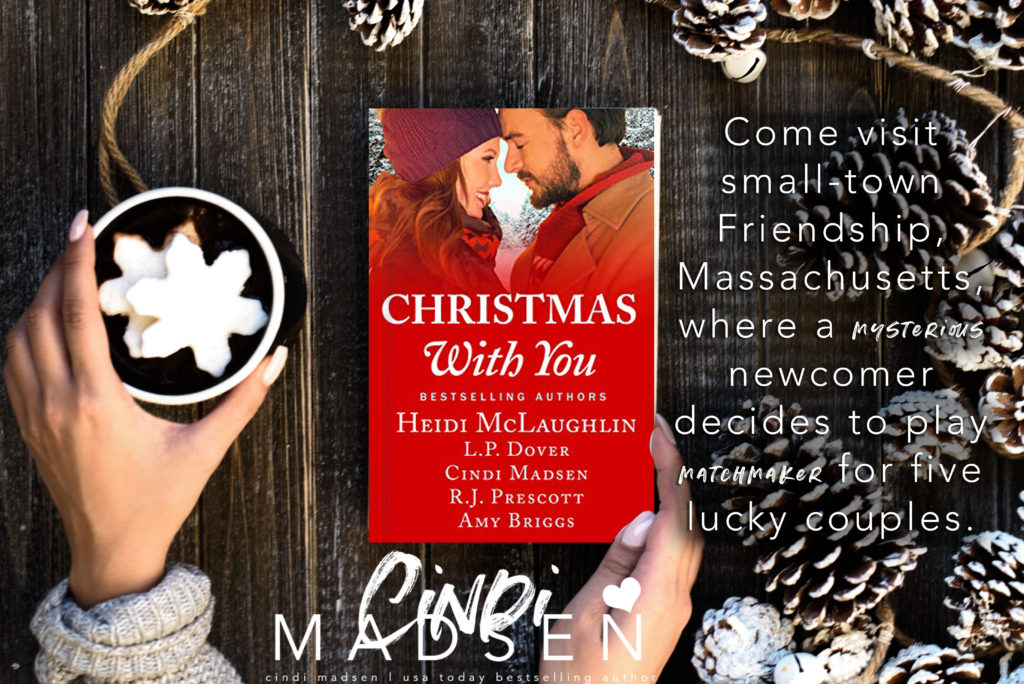 Hey happy readers!
I'm happy to announce that one of my stories is in a new Christmas anthology (a collection of stories from various authors) and I wanted to make sure you check it out!
It's called "Christmas with You: an Anthology
" and it's available on November 20!
Here's the lineup of stories inside:
Bestselling authors Heidi McLaughlin, L. P. Dover, Cindi Madsen, R. J. Prescott, and Amy Briggs invite you to celebrate the holidays in small-town Friendship, Massachusetts, where a mysterious newcomer decides to play matchmaker for five lucky couples.
Snowflake Lane Inn, by L. P. Dover The owner of a picturesque inn gets a holiday surprise when a well-known fashion designer comes to stay and redesigns his future.
Runaway Christmas Bride, by Cindi Madsen Making a new life in Friendship certainly wasn't the plan, but the spirit of Christmas – along with the rugged local sheriff – leads to a change of heart for this runaway bride.
Christmas Lights, by Amy Briggs A visitor to Friendship learns the true meaning of Christmas from a single dad and his young daughter.
Christmas Encounter, by R. J. Prescott A famous Formula One driver finds all roads lead to Friendship -and love – this Christmas.
It's a Wonderful Holiday, by Heidi McLaughlin A workaholic finds just the right Christmas magic to remind him about the most important thing in life: spending time with his wife and family.
So join me and my author friends with this delightful holiday read. I hope you enjoy each and every story we put together for your joyful reading!
XOXO,
Cindi Madsen