Technically it has been for almost two weeks, but I got super behind on posting on my blog. Oopsie! But here's the cover, blurb, & a fun excerpt!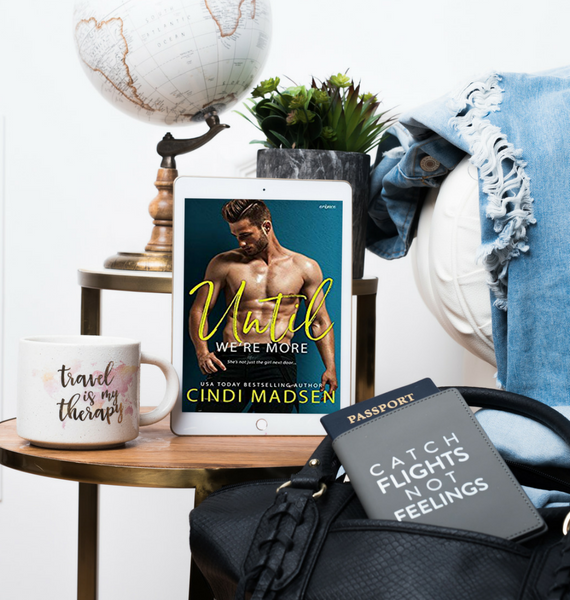 Chelsea is smart, funny, gorgeous, and the best friend I've ever had. Ever since she left, I've been a wreck. I've been focused on keeping my family's MMA gym afloat while I train and coach fighters, anything to not miss her more. But now she's finally back, along with her grumpy, possessive cat, and things are weird between us.
By weird, I mean I can't stop thinking about her in that way. She's in the room next door, and it takes all my control not to storm in there, sweep her up, and bring her back to my bed. Even stranger, I'm pretty sure she'd be into it.
And this time, I'm not going to stop fighting until we're more.
Each book in the Fighting for Her series is STANDALONE:
* Until You're Mine
* Until We're More
Excerpt:
"I need to know, Liam. I need to know if there's any attraction at all."
The full impact of her words hit me, flattening my lungs and making it impossible to take a breath. She wanted to know if I was jealous. If I was attracted to her… I was afraid to move and afraid not to.
She covered her heart with her hand, as if she might have to protect herself from my answer, and everything inside me crumbled.
"Of course I'm attracted to you, Chelsea. Look at you." I gestured to her and got caught up in staring at her smooth skin and her red hair and her legs and her lips and as I was trying to decide on my favorite part, a healthy dose of lust pumped through my bloodstream.
"But when I hit on you last weekend, you brushed me off."
"You were drunk. I was trying to be noble."
She shoved her hands against my chest. "Well, be less noble!"
The thread on my control snapped, and I backed her up against the wall. I braced a palm next to her head and pressed closer, teetering on the edge, a mere breath away from welcoming the free fall. "This is what you want?"
She nodded.
I caught her chin between my thumb and index finger. "Is that your idea of assertive? A second ago you demanded I let you be bold, so don't back down now."
That fire flooded her features again, and God help me, it turned me on, taking me from hard to rock hard. Her body was soft and warm and pliant underneath me, too, and the word "mine" flashed through my head like a neon sign. But I needed her to cross some of the lines. Needed to be sure it was what she wanted, too, not just me being selfish and pulling her into my messy life in a way I knew I shouldn't.
Her hand fisted the front of my shirt, and with surprising force for such a little thing, she jerked me to her and planted her lips on mine.
Like a match to a fuse, the kiss burned through me fast and then blew everything inside me apart.